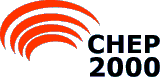 Last update:
Apr 1, 2000
| | |
| --- | --- |
| | North American Linear Collider Detector Simulations |
Richard Dubois
SLAC



Speaker: Richard Dubois

The detector simulation facility in use by the North American Linear Collider study group provides both a fast parameterized and a detailed full simulation of generic detector designs. It allows comparison of a range of detector design options. MC farms have been set up at several institutions to generate sizeable datasets for the studies. The simulation code is C++ with output allowing for reconstruction and analysis in JAS/Java and Root/C++ environments. Emphasis has been placed on flexibility for detector design and freely distributable code based on open utilities like Gismo, XML and g++.
| | |
| --- | --- |
| Presentation: | Short Paper: |