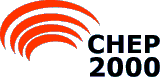 Last update:
Apr 1, 2000
| | |
| --- | --- |
| | Object Oriented reconstruction of the CMS muon chambers |
Annalina Vitelli
Universita' di Torino



Speaker: Annalina Vitelli

I present the Object Oriented Design of the software which performs the simulation and the reconstruction for the CMS muon chambers.
I illustrate the following phases of the process: - requirements - static design - dynamic design - code implementation
Persistency in an Objectivity database is introduced in order to save the products of the simulation and the GEANT hits information.
The analysis of the data recorded using a prototype of a muon chamber layer during the test beam of Summer 1999, performed with the OO Muon code, is also discussed.
| | |
| --- | --- |
| Presentation: | Short Paper: |