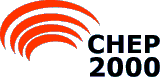 Last update:
Apr 1, 2000
| | |
| --- | --- |
| | Object Oriented reconstruction software for the IFR detector of BaBar experiment |
Luca Lista
INFN Sezione di Napoli



Speaker: Luca Lista

We present the application Object Oriented design patterns to the reconstruction program of the Instrumente Flux Return detector of BaBar experiment. The use of abstract interfaces has improved the developement of reconstruction code and has permitted to flexibly apply modification to reconstruction strategies, and eventually to reduce the maintenance load. The experience made during the last years of developments are presented.
| | |
| --- | --- |
| Presentation: | Short Paper: |