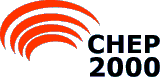 Last update:
Apr 1, 2000
| | |
| --- | --- |
| | The Design, Implementation and Deployment of Functional Prototype OO Reconstruction Software for CMS. The ORCA project |
David Stickland
Princeton



Speaker: David Stickland

(by CMS software team:)
Since September 1998 CMS has built and deployed an OO reconstruction program under the acronym ORCA. This software is built on the CARF architecture, based on action on demand. Using a pragmatic approach, initially wrapping and later replacing legacy code we have increased the team of active developers from a handful to about 50 at this time. Using an iterative life-cycle model, with macro-cycles of about 3 months we have steadily improved the software quality as the experience of the developers grows.
In October 1999 ORCA was used in a production environment, writing 600k events into two Objectivity/DB Federations, and is currently being used by CMS physicists performing detector optimization and trigger studies. These databases can also be used to study realistic access patterns in user analysis and hence give useful input to LHC resource planning.
| | |
| --- | --- |
| Presentation: | Short Paper: |