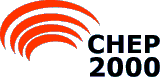 Last update:
Apr 1, 2000
| | |
| --- | --- |
| | The Use of Commodity Products in the ATLAS Level-2 Trigger |
Fred Wickens
RAL



Speaker: Fred Wickens

The ATLAS Level-2 trigger has to offer an event rate reduction of approximately 1 in 100, from an input rate of up to 100kHz. Studies indicate that using geometrical guidance from the Level-1 trigger and a sequential selection strategy, this can be achieved using largely Commodity Products, both for the processors and the communication networks. This paper will present the results of recent studies, indicating where commodity items are now sufficiently powerful and flexible to be used for this demanding real-time task and where custom items - either software or hardware - may still be required.
| | |
| --- | --- |
| Presentation: | Short Paper: |