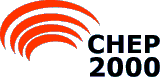 Last update:
Apr 1, 2000
| | |
| --- | --- |
| | The usage of ROOT for Online Monitoring in the ALICE DATE system |
Roberto Divia1, Krzysztof Zelazowski1, Fons Rademakers2
CERN
GSI
Speaker: Roberto Divia

Data Acquisition systems for HEP applications need constant monitoring (online and offline) of their data streams to accomplish several tasks: quality checking, tuning, statistics, pre-analysis. Monitoring tasks can and should use the same tools as data analysis products (conventions, libraries, environments) to reduce training, installation, development and support efforts and - at the same time - to strengthen the liaison between the online and the offline worlds. The ALICE DATE Data Acquisition system available today for R&D and for test beams is fully integrated with the ROOT environment. A simple DAQ-oriented approach and a more complex OO-based model have been developed to allow a variety of programming paradigms and to validate the complete life cycle of monitoring tools, both for online and offline environments.
| | |
| --- | --- |
| Presentation: | Short Paper: |