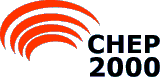 Last update:
Apr 1, 2000
| | |
| --- | --- |
| | Experiences using CMS Daq Column system at H2 test beam area |
Marco Bellato1, Luciano Berti2, Michele Gulmini2, Gaetano Maron2, Roberto Ponchia2, Nicola Toniolo2, Gabriele Vedovato2, Sandro Ventura1, XiaoQing Yang2
infn pd
INFN LNL
Speaker: Sandro Ventura

While achieving the task of providing a daq system for the CMS muon chamber testbeam held at Cern on july '99, we took the opportunity to integrate a complete "CMS daq column" prototype for the first time on a real data taking environment. Experience was acquired on the customization of the generic event builder for a specific setup and the whole of the functionalities and protocols needed to drive such a multisource architecture were put under validation. As a result we could spot many missing and inadeguaties of the system implementation on the different aspects of configuration, control and synchronization. Based on the obtained results, a major review of the whole system is under way, aiming to the specification of a daq tool which could become a baseline for the future testbeam setup, moreover in sight of a multiple subdetector readout integration.
| | |
| --- | --- |
| Presentation: | Short Paper: |