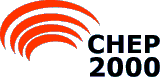 Last update:
Apr 1, 2000
| | |
| --- | --- |
| | BaBar Online Detector Control |
Gerry Abrams1, Perry Anthony2, Mario Bandioli3, Chris Brown4, Pierre-Alexandre Fischer5, Fulvio Galeazzi6, Kenneth Kang7, David Kirkby7, Steve Lewis1, Carl Lionberger1, Martin Kocian8, Tim Meyer7, Tom Meyer5, Mauro Morandin9, James Olsen10, Pierluigi Paolucci11, Christophe Thiebaux12, Vincent Tisserand13, George Vasileiadas12, George Zioulas14
Lawrence Berkeley Laboratory
Stanford Linear Accelerator Laboratory
INFN Sezione di Pisa
University of Victoria
Iowa State University
INFN Sezione di Padova
Stanford University
Techn. Univ. Dresden
INFN
University of Maryland
INFN Sezione di Napoli
Ecole Polytechnique
Annecy
Stanford Linear Accelerator Center
Speaker: James Olsen

The BaBar online detector control system uses the Engineering and Physics Industrial Control System (EPICS) to control and monitor the detector subsystems, environmental conditions, and accelerator parameters at the SLAC PEP-II B-Factory. We describe the EPICS hardware and software implementation, interaction with the rest of the BaBar online system through Run_Control, archiving of ambient data to the Objectivity database, and the handshaking mechanism between PEP-II and BaBar used to coordinate the injection sequence. Emphasis will be on operational experience over the May through September running period.
| | |
| --- | --- |
| Presentation: | Short Paper: |