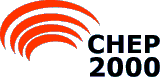 Last update:
Apr 1, 2000
| | |
| --- | --- |
| | The Read-Out Crate in ATLAS DAQ/EF prototype -1 |
Stafano Veneziano
Universita di Roma I "La Sapienza"



Speaker: Stefano Veneziano

A prototyping project has been undertaken by the ATLAS DAQ and Event Filter group. The aim was to design and implement a fully functional vertical slice of the ATLAS DAQ and Event Filter with maximum use of commercial components.
The Read-Out Crate is a component within the vertical slice whose principle functionality is to receive, buffer and forward detector data to the Level 2 Trigger and Event Builder systems.
The high-level design and initial implementation of the Read-Out Crate will be presented, putting emphasis on the concept of a ROBIN. The latter implements the functionality of receiving and buffering incoming detector data at up to 160 Mbyte/s.
The initial implementation is based on commercial components: VMEbus PowerPC and Pentium based single board computers; one or more ROBIN PMCs; an additional intra-crate bus supporting broadcast; the LynxOS real-time operating systems.
Results will be presented which summarise the performance of two flavours of ROBINs: a commercially available PowerPC based PMC and a custom built PMC based on an i960 processor. In addition, results on the performance of the Read-Out Crate, measured in the context of the ongoing DAQ/EF -1 project will be presented.
| | |
| --- | --- |
| Presentation: | Short Paper: |