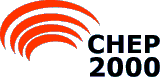 Last update:
Apr 1, 2000
| | |
| --- | --- |
| | Practical Security In Large-Scale Distributed Object Oriented Databases |
Andrew Hanushevsky
Stanford Linear Accelerator Laboratory



Speaker: Andrew Hanushevsky

The BaBar experiment at the Stanford Linear Accelerator Center is designed to perform a high precision investigation of the decays of the B-meson produced from electron-positron interactions. The experiment, started in April 1999, will generate approximately 200TB/year of data for 10 years. All of the data will reside in Objectivity databases accessible via the Advanced Mult-threaded Server (AMS). While most of the data is accessed via on-site computers, some is remotely available to scientists at other installations. In either case, all of the data must be protected from unauthorized modification. The sheer quantity of data together with distributed data access requirements necessitates an extended security infrastructure not commonly found in object oriented databases. The SLAC-designed Generic Authentication Protocol (GAP) provides this infrastructure and has been incorporated by Objectivity into their database product.
This presentation describes the design of the security protocol used in Objectivity/DB to authenticate users, the mechanism used to actually provide for proper authorization, and how the protocol can handle various authentication models such as Kerberos and PGP.
| | |
| --- | --- |
| Presentation: | Short Paper: |