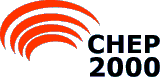 Last update:
Apr 1, 2000
| | |
| --- | --- |
| | Operational Experience with the BaBar Database |
David Quarrie
Lawrence Berkeley National Laboratory



Speaker: David Quarrie

The BaBar experiment at the PEP-II collider at SLAC is using an object database management system for its primary event store as well as for the storage of calibration and alignment information. We report on the experience gained since the experiment detected its first physics event in May 1999. This includes an overview of the software design, the hardware configuration, the data distribution strategy and a high level discussion of aspects that have proven to be important for performance and scaling. More detailed discussions of some of the technical details will be presented in other more focussed papers.
| | |
| --- | --- |
| Presentation: | Short Paper: |