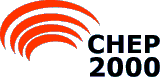 Last update:
Apr 1, 2000
| | |
| --- | --- |
| | An ODBMS approach for the persistency in CMS |
Lucia Silvestris
CERN and INFN (for the CMS Collaboration)



Speaker: Lucia Silvestris

Persistent object management has been always at the centre of the CMS Analysis and Reconstruction Framework (CARF). It has been considered one of the major task of CARF. Already the very first prototypes had an ODBMS database (Objectivity/DB) as the key component.
Today, Objectivity/DB is fully integrated into CARF. The present version of CARF offers persistent object management for event structure and metadata. In particular it manages raw data from test-beams, simulated particles, tracks and digi and reconstructed objects common to test-beams and simulation.
CARF is used for detector performance and high level trigger studies. A review of experiences and performances will be presented.
| | |
| --- | --- |
| Presentation: | Short Paper: |