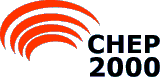 Last update:
Apr 1, 2000
| | |
| --- | --- |
| | Atlas event data model optimization studies based on the use of segmented VArray in Objectivity/DB |
Simona Rolli1, Rd Schaffer2, Martin Schaller2
TUFTS University
CERN
Speaker: Simona Rolli

The current raw data event model for ATLAS is benchmarked for writing and reading performances as well as an extension of it based on the use of segmented VArray (SegVArray). SegVArray is a multilevel variable-size array with the same interface as the Objectivity/DB VArray class, but containing ooVArray of SVArraySegments, each of them containing an ooVArray of objects that are the elements of the SegVArray.
The advantages compared to the ooVArray class are manifold as illustrated through the performance benchmarks performed on a toy model as well as the ATLAS raw data event model.
| | |
| --- | --- |
| Presentation: | Short Paper: |