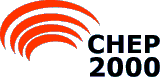 Last update:
Apr 1, 2000
| | |
| --- | --- |
| | An OO tag database for physics analysis at HERA |
Adrian Fox-Murphy, Tobias Haas
Deutsches Elektronen-Synchrotron



Speaker: Adrian Fox-Murphy

A persistent object database based on Objectivity/DB was used for the first time in a running high-energy physics environment in the ZEUS experiment at the HERA electron-proton collider. An event tag database of 250 physical variables per event is created during offline event reconstruction and is later used to rapidly select events for physics analysis. Around 100 million events from 5 years of data are currently stored. The environment, the design choices and the tag database system are described, and the favourable users' experience is reported.
| | |
| --- | --- |
| Presentation: | Short Paper: |