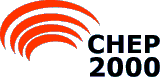 Last update:
Apr 1, 2000

Martin Lohner, Chris Jones, Dan Riley
Cornell University



Speaker: Martin Lohner

The CLEO III experiment will collect on the order of 200 TB of data over the lifetime of the experiment. The challenges facing CLEO III are how to store such a large dataset.
Our storage format of choice is Objectivity/DB on top of a Hierarchical Storage Manager. We will describe in detail our experiences with Objectivity and the various design decisions we made to limit the complexity of our storage system (device driver approach rather than direct coding to Objectivity, schema evolution, user data, etc), given the resources a (relatively) small experiment has, shortage of development personnel, uncertainty of the future of commercial databases, and the use of commercial software in a long-term mission-critical environment.
| | |
| --- | --- |
| Presentation: | Short Paper: |