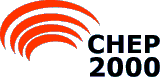 Last update:
Apr 1, 2000
| | |
| --- | --- |
| | The CDF Run II Data Catalog and Data Access Modules |
Paolo Calafiura1, Jim Kowalkowski2, Stephan Lammel2, Mark Lancaster3, Elizabeth Sexton-Kennedy2, Igor Sfiligoi4, Terence Watts5, Eric Wicklund2
LBNL
Fermilab
University College, London
INFN, Frascati
Rutgers University
Speaker: Paolo Calafiura

The next collider run of the Tevatron, Run II, will start in March of 2001. The CDF experiment will record and analyse proton-antiproton interactions at a center-of-mass energy of 2 TeV.
CDF will organize data by datasets which will contain events of the same physics properties and reconstruction version. A CDF Data Catalog will exist to store information about the dataset and the Catalog will be implemented in a relational database; a prototype has been tested.
The hierarchical organization used for data storage will be datasets, filesets, files, and run-sections; the Catalog will record this hierarchy. Run-sections will contain information about data quality, luminosity and dynamic trigger prescale values. Files will be grouped into filesets, and filesets into datasets.
A user will analyse data by selecting one or more datasets. A special data handling input module in the analysis driver, AC++, will coordinate the reading of all filesets belonging to a requested dataset using the Catalog and disk inventory manager software.
An output module will write files of approximately 1 GB; data handling software will form filesets and transfer data to tape.
| | |
| --- | --- |
| Presentation: | Short Paper: |