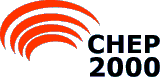 Last update:
Apr 1, 2000
| | |
| --- | --- |
| | Automating Linux Installations at CERN |
Ignacio Reguero, Mark Olive, German Cancio, Lionel Cons, Philippe Defert
CERN, IT Division



Speaker: Ignacio Reguero

An experimental automated installation service is being used to install the Linux farms in the CERN computing centre and a small number of desktop systems since end of 1998. The system is based on the Kickstart software from the RedHat distribution. System configurations are stored on a central repository in the AFS filesystem. The installation clients locate these configurations using a BOOTP server, and subsequently access them using NFS. The configurations for 200 systems are currently registered. The system has been adapted to automatically install the CERN standard Unix Environment (SUE). A number of Kickstart problems have been solved or circumvented. We are currently working on a more general system suitable for desktop PCs with
- Configuration templates for standard desktop PCs. - Expert modes. - Simplified administrative interface. - Self-service graphical user interface.
A configuration database will allow this functionality by mediating between the user interface and the kickstart system.
| | |
| --- | --- |
| Presentation: | Short Paper: |