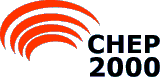 Last update:
Apr 1, 2000
| | |
| --- | --- |
| | An HS-Link Network Interface Board for Parallel Computing |
Andres Cruz, Jaroslav Pech, Alfonso Tarancon, Carlos L. Ullod, Carlos Ungil
Departamento de Fisica Teorica, Universidad de Zaragoza



Speaker: Carlos Ungil

An interface board capable to connect the PCI bus to two serial links at 1 Gbit/s each is presented. That PCI-HSLink board has been developed at CERN as a component of a testbed for the distribution and analysis of high energy data from new colliders. By using those boards and appropriate cross-link switches in our cluster of 16 Pentium Pro dual nodes (RTNN), a high performance, low cost full parallel machine is achieved.
| | |
| --- | --- |
| Presentation: | Short Paper: |