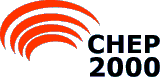 Last update:
Apr 1, 2000
| | |
| --- | --- |
| | Fermilab Computing Division Systems for Scientific Data Storage and Movement |
Donald Petravick
Fermilab



Speaker: Donald Petravick

In the past two years, the Fermilab Computing Division has constructed software and facilities which are used for the D0 experiment in run II and other elements of the scientific program.
The most recent activity has been centered around open source and commodity technologies: Intel based Linux computers for data movement, commodity networks, commodity tape drives, and HEP specific storage software. These systems are being commissioned for Run II and advocated for broad use throughout the FNAL scientific program.
I provide an overview of all facilities and software constructed and supported by the FNAL Integrated Systems Development Department, describe the general technical directions pursued, and describe progress to date.
| | |
| --- | --- |
| Presentation: | Short Paper: |