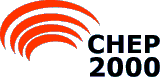 Last update:
Apr 1, 2000

Valery Fine
Brookhaven National Laboratory (For STAR collaboration)



Speaker: Valery Fine

The Solenoidal Tracker At RHIC (STAR) is a large acceptance collider detector, commissioned at Brookhaven National Laboratory in 1999.
STAR has developed a software framework supporting simulation, reconstruction and analysis in offline production, interactive physics analysis and online monitoring environments that is well matched both to STAR's present transitional status between Fortran and C++ based software and to STAR's evolution to a fully OO software base.
This paper presents the results of two years effort developing a robust, modular C++ framework based on the ROOT package that encompasses both wrapped Fortran components (legacy simulation and reconstruction code) served by IDL-defined data structures, and fully OO components (all physics analysis code) served by a recently developed object model for event data.
The framework supports chained components, which can themselves be composite sub-chains, with components ('makers') managing 'data sets' they have created and are responsible for. An St_DataSet class from which data sets and makers inherit allows the construction of hierarchical organizations of components and data, and centralizes almost all system tasks such as data set navigation, I/O, database access, and inter-component communication.
This paper will present an overview of this system, now deployed and well exercised in production environments with real and simulated data, and in a very active physics analysis development program.
| | |
| --- | --- |
| Presentation: | Short Paper: |