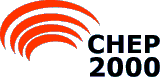 Last update:
Apr 1, 2000
| | |
| --- | --- |
| on same keytopic | |
| | |
| --- | --- |
| | The Compass Computing Farm Project |
Massimo Lamanna
CERN IT and INFN Trieste



Speaker: Massimo Lamanna

The Compass experiment (CERN) will start detector commissioning and data taking in year 2000; together with the CERN IT/PDP group proposed the Compass Computing Farm project (CCF).
The CCF main tasks are:
- central data recording (10G events at 35 MB/s many months a year)
- reconstruction of all data (300 TB/y)
- some analysis and filtering (samples below 1 TB will be exported)
The estimated computing power is 2,000 SpecINT95, provided by some 100 PCs; Gigabit and Fast Ethernet are deployed. A disk pool of few TB is being setup: presently most of the disk space is SCSI but EIDE is under consideration.
The solutions for the data storage are still under test, together with the development of the C++ reconstruction program. Presently, the events are stored as objects in Objectivity/DB; the data bases are moved between the disk pool and the tape system with HSM solutions (developed by IT/PDP).
The present PC farm (Sep.1999) allows to sustain the 35 MB/s rate into Objectivity/DB using 11 PCs (Dual PII 450 MHz) for many hours in a realistic environment. The distribution of the events to the CPU clients (for reconstruction) is also under test.
| | |
| --- | --- |
| Presentation: | Short Paper: |