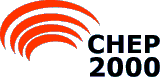 Last update:
Apr 1, 2000
| | |
| --- | --- |
| | The BaBar Online Databases |
George Zioulas1, Yury Kolomensky2, Scott Metzler2, Valery Miftakov3
Stanford Linear Accelerator Laboratory
California Institute of Technology
Princeton University
Speaker: George Zioulas

The BaBar experiment at the Stanford Linear Accelerator Center is designed to study CP violation in decays of B mesons produced in electron-positron interactions. BaBar has chosen an Object Oriented Database Management System, Objectivity/DB, as the underlying storage technology. The online system has also adopted Objectivity to store ambient data from the Detector Controls, the Fast Monitoring histograms and the configuring parameters of various hardware and software components of the detector. Over 100 GB of non-physics data will be recorded each year.
The online databases will be presented with emphasis on the design and implementation of the Ambient and Configuration databases. Their performance during the first run of the experiment will be discussed. Online database servers and browsers will also be described.
| | |
| --- | --- |
| Presentation: | Short Paper: |