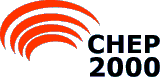 Last update:
Apr 1, 2000
| | |
| --- | --- |
| | Validation of the MONARC Simulation Tools |
MONARC Collaboration
MONARC Collaboration



Speaker: Youhei Morita

The objective of the MONARC project is to identify baseline computing models that could provide viable solutions meeting the data analysis needs of LHC experiments. A powerful and flexible set of simulation tools has been developed to model the performance of distributed computing resources for a set of reconstruction and analysis tasks. In this report we report the validation of the simulation tools using the testbed environment using Objectivity/DB over LAN and WAN.
The simulation tools are based on Java, and the resource utilization such as CPU, disk and network are calculated with a method called "process oriented discrete event simulation". The detail of the simulation tool has been described elsewhere. A set of testbeds have been set up within the MONARC project in places like CERN, KEK, INFN, Caltech, and SLAC, which are interconnected with various kinds of wide area networks ranging from dedicated satellite ATM PVC circuits to QoS services. Several example HEP analysis codes based on Objectivity/DB have been developed and tested over these testbeds. Measured performance results were then compared to the simulation to validate behaviors of the various components in the tools.
| | |
| --- | --- |
| Presentation: | Short Paper: |