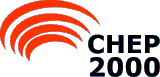 Last update:
Nov 3, 2000
Secretariat
All further information about CHEP 2000 can be asked at the secretarial office in Via Marzolo 8, 35131 Padova. Mrss. Giuseppina Salente and Graziella Rossetto will answer to your phone calls, your fax and your e-mails.



Please remember, though, that for hotel accommodation, and registration fee, you should refer to the "Sistema Congressi" which has been entitled by us to assist you with these matters.


As you know, by now, the Conference will be held from February the 7th to 11th. at Teatro Antonianum in Padova, Via Briosco 7.

On Sunday, February 6th, on hospitality desk will be open at the airport of Venezia from 10:00am to 10:00pm for all primarily information needed upon arrival. The secretariat will be open for registration, from 14.30 to 19.30 at the place of the conference to allow you to collect your badge, your brief case, and to meet all colleagues. During these hours, a welcome party will be held to welcome all participants and to give them the chance, after the trip, to enjoy a few hours in relax and chatter with friends and the Local Organizing Committee, drinking a good glass of wine and biting some good Italian savouries.

From February 7th to 11th the secretariat office schedule will be as follows: 8.30 - 13.00 / 14.30 - 19.30. Both, morning and afternoon sessions will undergo to a pause of about 15 minutes for a coffee break. Lunch time will be left at participant's initiative. Suggestions on places, restaurants and bars where to have a bite will be available at the conference secretariat desk.