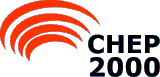 Last update:
Sep 28, 1999
Social Events
By tradition, Conferences are, as well, a good occasion, for a pleasant and cultural entertainment of all participants and their companions. Chep 2000 organizers have already planned some activities which will delight the guests.
On Sunday February 6th, along with the registration to the Conference a welcome party will be offered from 14.30 to 19.30. Price is included in the conference fee. During these hours, all participants will be welcomed. It will be the occasion, after the trip, to enjoy a few hours in relax and chatter with friends and the Local Organizing Committee. Good wine, drinks and a quick delicious bite of some good Italian savouries, will entertain all participants.
On Wednesday night, February 9th, a classic music concert will be offered at "Teatro Pollini", one of the most prestigious in Padova. The concert will be given by "I Solisti Veneti", the most popular and technically outstanding italian orchestra and one of the finest orchestras in the world. Price is included in the conference fee. Companions are, as well, invited to participate with no extra charge.
On Thursday night, February 10th, a social dinner will be offered at "Villa Contarini". Among the many villas scattered throughout the province of Padova, Villa Contarini degli Scrigni at Piazzola sul Brenta, attributed to Andrea Palladio, is distinguished for its incomparable splendour. Architectonic jewel of XVI century surrounded by a 50 hectares park, it is of great interest also for its naturalistic resources, like an intact oasis of the pre-roman period, a lake, and botanical garden. In its rooms you can admire frescos by the school of Giulio Romano and by Torti. Price for dinner is included in the conference fee. Companions who wish to participate are warmly welcome. An extra charge of Lit. 75.000 is due for each companion. Ticket for companions dinner can be purchased upon arrival in Padova. Dead line for companion reservation is Tuesday, February 8th.
Companions who wish to visit the surroundings of Padova, or the beauties of the city, will be helped by the local organizers with suggestions and all needed information.
We are still trying to organize some more events...